CHEEKY
CHOKE ON A CHEESEBURGER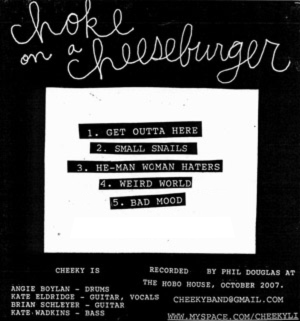 Cheeky is a band of three girls and one guy from Brooklyn via Long Island. Choke on a Cheeseburger shows that even though they have only been around for about a year, they are breathing some much needed excitement into the stale homogenized state of punk rock today. This EP brings back the sounds of classic pop-punk greats (such as Crimpshrine, Descendents and The Muffs) while Phil Douglas's (Latterman) production helps it stand out as a great sounding classic debut EP that's happening right now maaaan. FUCK YEAH CHEEKY! SHIT YEAH!
click here for the whole album!
click here for the liner notes!
1. Get Out of Here
2. Small Snails
3. He-Man Woman Haters
4. Weird World
5. Grow Fins, Turkey
6. Bad Mood

This work is licensed under a Creative Commons Attribution-Noncommercial-Share Alike 3.0 United States License.