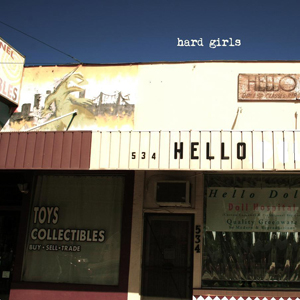 HARD GIRLS
HELLO

Hard Girls have a lot to live up to. The three members represent most of San Jose's unsung punk rock heroes Shinobu and Pteradon who have continued to live in the town. They also represent 3/4 of Jesse Michaels' new band, Classics of Love. Not surprisingly, their first EP is totally awesome and lives up to the precedent that has been set forth, mixing minimal sunny indie rock with furious spastic punk rock and everything between. Very fucking awesome!
Click here to download the wlole album!

1. Shame Your Name
2. Evening Constitutional
3. Sleep
4. Quinceanara
5. Lazer Parade
6. Strange Carafe
7. Beach Party

Hard Girls is Max, Mike and Morgan.
Recorded and mixed by Skylar Suorez at the Cuddle Space.
Photo by Ian Silber.
In no particular order, thanks to:
Bob, Jon, Matt, Jeff Walsh, Tyler Kogura, Plymouth House Crew, Avi, Mike Park, Jesse Michaels, Jason Thihn, The Albert Square, every other band we are friends with, Cooper Falk, Jake Feshbach, Phat N Phunky Phamily, Moms, Dads, Sisters, Brothers, and the rest of the people we love.
Special thanks to:
Skylar Suorez, Jeff Rosenstock, and Ian Silber.

This work is licensed under a Creative Commons Attribution-Noncommercial-Share Alike 3.0 United States License.
please note "Hard Girls" in the subject or body of your donation.
(SUGGESTED DONATION: $5)
LYRICS!!!
SHAME YOUR NAME

Dust blows in little whorls,
Collects in drifts on the hardword floor.
And you shook up my world,
with the name you shamed,
the name you shamed me with.

And it's a shame that you can't come,
We go downhill so fast in the night

I'm going off like a wet firecracker,
you never know when i might explode.
Look out!

EVENING CONSTITUTIONAL
Went out
On my evening constitutional.
Watched the trees as they stood still.
Watched the trees as they stood still.
How long does it take for it to sink in?
And what were you thinking?
Yeah, how many days does it take for it to sink in?
And what were you thinking?
Or were you thinking at all?
And the ground begins to move,
And the trees begin to peel.


SLEEP

SLEEP!
or forever hold your peace
A piece of glass
looks just like plastic
until you pick it up.
Word lubrication in clear, brown and green
You think you know what I mean
Oh but you don't, oh you don't, oh you don't
It's just shit I'm making up.


QUINCEANERA

White cord, black phone,
attached with staples to the wall.
Pick it up and throw it when you get angry.
Nobody's buying, nobody's selling
That baby's crying, everyone's yelling
and think of…
Three girls skipping, throwing daisies at your quinceanera,
A dress from Novias Elegantes.
Can I call you cousin?
I only got one cousin.
Will you be my cousin?

She's got a heart and it hurts.
Marya, Marya, change the i to a y
Dead rats living under your office,
It feels so great at your age making minimum wage.

LAZER PARADE

Hey! The Lazer Parade.
Haven't seen you in a coon's age.
Making fun with lemonade.
The kids are on a raid (Hey!)
To get paid five cents for lemonade.

From underneath the streetlight,
I saw a thousand drunks walk home.
And underneath the streetlight,
I found myself among the drunks as I
Stumbled home.

STRANGE CARAFE
I remember the nights,
I remember the feeling,
But most of all, I remember that I need to remember more.
I was sitting in silence
You were screaming invectives;
We were drinking from a strange carafe
in a strange little corner of night
I was starting to crack,
I ducked into a drafty bathroom,
To get away from it all.
And in the pale blue light,
Of other people's lives...
We were drinking from a strange carafe
in a strange little corner of night.

BEACH PARTY

Beach Party Tonight!
There's a party at the beach,
Be discreet when you bring the wine,
Don't get caught like last time.

Bring a sweater and a coat,
It gets cold when the sun goes down.
And the coat's for wrapping around,
The shoulders of a cold girl,
And the sweater's for keeping yourself warm,
Because they never bring their own.