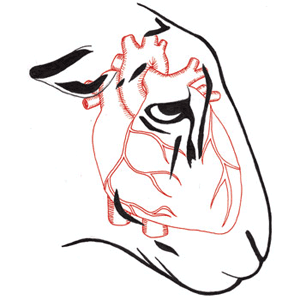 ROAR
I'M NOT HERE TO MAKE FRIENDS

Another pop mini-masterpiece from Phoenix's best kept secret. Soaring keyboards, perfect harmonies and sunny melodies surrounding a big black cloud of panic and terror. Oh fuck.
click here to buy the record from us!
click here to download the album!

1. Chinese Tattoo
2. Flightless Bird
3. Poor Grammar
4. The Comfort of a Laugh Track

Recorded and mixed by Nick Krill at The Garden Center in Hockessin, Delaware
Mastered by Roger Seibel at SAE Mastering in Phoenix, Arizona
All songs written and performed by Owen Evans
Album Artwork by Owen Evans
Special guest appearances:
Jeff Hobson – Drums on Chinese Tattoo
Joe Hobson – Vocals on Chinese Tattoo
Thomas Hughes – Bass guitar on all four songs! Vocals on Chinese Tattoo
Nick Krill – Vocals on Chinese Tattoo
Many thanks to Jeff Rosenstock, The Spinto Band, Andrew Jackson Jihad, Jeik Williams, Alex Cardwell

This work is licensed under a Creative Commons Attribution-Noncommercial-Share Alike 3.0 United States License.

SUGGESTED DONATION: $5 US
please note "roar" in the subject or body of your donation.
CHINESE TATTOO
Just like the Chinese character tattoo that's healing on his upper arm, "strength" doesn't mean what you once thought it to. Don't be alarmed. There's nothing wrong. No one's ever going to treat you right. You're attracting the wrong kind and you're always left with nothing but anger and lord knows that it hurts when coming to terms with the lessons you're learning. You're trying not to show your eyes when you're addressing a new "Mr. Right." This isn't love but it still feels nice with these immaculate and warm insides. Never once stopping like a shark in its sleep moving just to breathe. This is what you call "free?" Harsh as it seems, maybe "love" means being naïve. The pure and eager part of me, like pledging some sorority, is losing its virginity in some bathroom during "hell week."
FLIGHTLESS BIRD
When you're a flightless bird with wings, sometimes the humor of a bitter god just loses all its novelty. So now you get too drunk to sleep. You spend the night driving with one eye closed to keep the lines from doubling. Replaying the gore- y scene incessantly… forgot the safe word was "imaginary"… forgot about my poor selective memory… feeling like a fat kid at the beach who's still weighing the pros and cons of weak bulimic teeth. Means that never reach an end, that's what you get for living in your head. You breathe 3 A.M. breath and tell yourself that this is for the best.
POOR GRAMMAR
This life is punctuated by some mistake, failing to glean the right emphasis and the meaning. This life is punctuated like a texting session between two overheated, insecure teens. You try to say what you mean, "I have to leave but I'm not ready." Lip-sync the comforting scene. Trembling jaws can't stop stuttering. I can't see you when I need to. How am I supposed to get through? Method-actor, suffering… try repeating once again this time with feeling. Premeditated like some sick joke…waited all night for you.
THE COMFORT OF A LAUGH TRACK
Is there something you should say that I don't want to know? Trying to remain composed while asking me to go… when I scare the last away, all of the fault will be my own. Why is it so hard to speak to people? I don't know. Is it something that you learn when constantly alone? When did I become a man trapped inside a ghost? If you could only see me now, I know I'd disappoint somehow. I'm stuck inside a fantasy where I could be all you would need. Will I live in shame of the things in the past that I should have done for you? Is it possible to forgive all the ignorant ones if they're just too young? Fake love… yeah, you know you'll be truly missed. Fake love must be some kind of abstinence. Let's not make much more out of all of this. Let's not but we still can pretend we did.